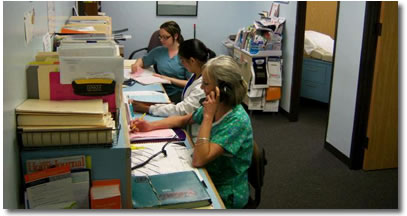 Zimmerman Medical Clinic
7707 Fannin, Suite 250
Houston, Texas 77054
Telephone:  713-797-9999
Our office hours are Monday through Friday, 8:30 am to 5:00 pm.
Before and after office hours, our answering service will reach
your doctor in case of emergency. If your personal physician is not
on call, the ZMC physician on duty will return your call.
To refill routine prescriptions, please call directly to your
pharmacy and request a refill. The pharmacy will call or fax our
office for authorization of your medication refill.

Fax Numbers:
      Dr. Alvarez: 713-790-0358
   
      Dr. Cheema: 713-796-0668
   
      Dr. Cororve: 713-797-0757
     
      Dr. Cao: 713-797-1902   
      Dr. Zimmerman:  713-795-4651
   
      Business Office:  713-797-6503